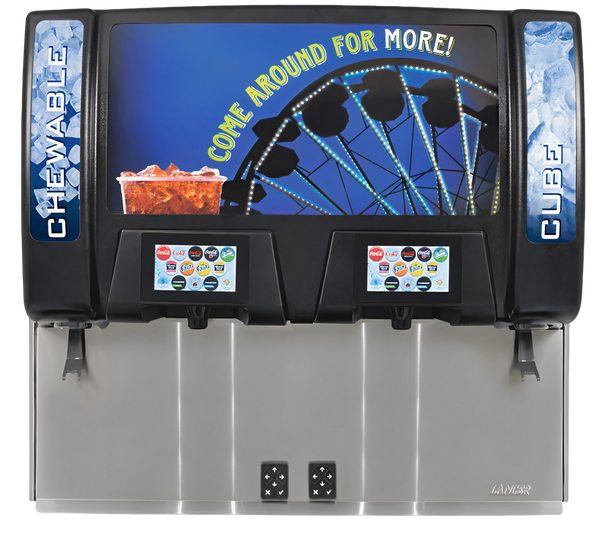 Twinpour With Extended Splash Plate Ice Fountain Soda Machine
---
With our Lancer TwinPour Ice soda fountain machine you can serve two customers at a time, while accommodating all ice types and providing 266 flavor combinations.
Lancer's FlavorTouch™ technology allows customers to utilize both pour points at the same time, with minimal steps, for better speed of service and premium product quality.
This beverage dispenser has the ability to maximize and optimize 44 inches of counter space, increasing customer throughput with two complete dispensing stations in one dispenser. The 44-inch TwinPour serves twice the number of customers in less space than traditional beverage dispensers. This allows customers to get their beverages twice as fast and operators to generate more profits in less retail space.
Lancer's Multi-Valve Technology has a faster flow-rate and valves can be serviced independently, even though they are all within one dispenser. TwinPour is made from heavy duty stainless steel construction and provides 30 inches of LED lite space, or you can upgrade to a 32-inch LCD merchandiser monitor with full HD video capabilities. Lancer's TwinPour is durable and user-friendly for both the customer when pouring beverages and the operator when servicing the machine.
Up to 1400 (16oz) drinks free! 
100% Financing, Servicing and Installation available.
Dimensions:
Height: 39.375" (1000.1 mm)

Width: 44" (1117.6 mm)

Depth: 31" (787.4 mm)
Space required:
Height: Allow sufficient clearance for manually filling with ice or refer to ice maker recommendation for top clearance.

Width: 46" (1168.4 mm)

Depth: 40" (1016 mm)
Weight:
With Ice: 745 lbs. (337.9 kg)

Shipping: 585 lbs. (265 kg)
Electrical:
Ice:
Capacity: 312 lbs. (141.5 kg)

Dispensable: 255 lbs. (115.6 kg)
Fittings:
Soda Inlets: 3/8" (9.5mm) male barb

Syrup Inlets: 3/8" (9.5mm) male barb
Valves:
LFCV 4.0oz (multi flavor)
Flex manifold configuration:
Total carb/non-carb flexibility

Up to 24 brands (10 chilled / 2 ambient per nozzle)

Up to 8 bonus Flavors (4 per nozzle)
Two keylock switches