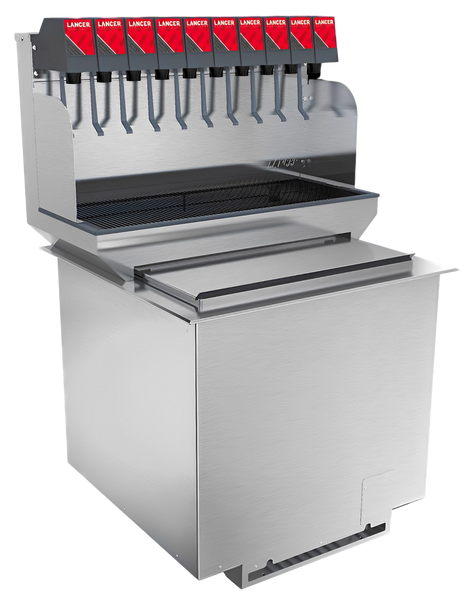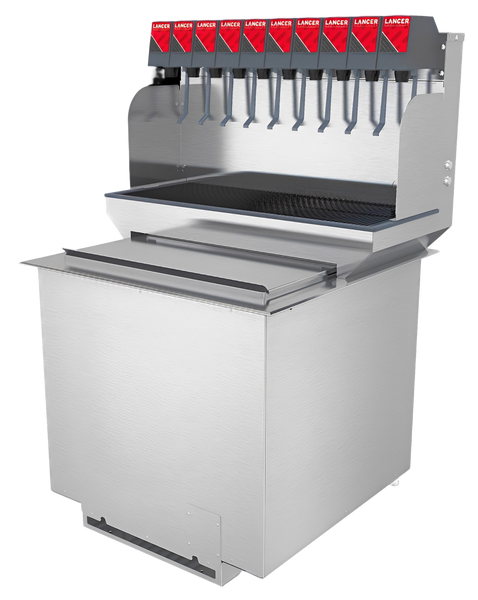 ICD 2300 10VL High Performance Soft Drink Dispenser
---
Our Lancer ICD High Performance soft drink dispenser utilizes advanced engineering simulations for the coldest drinks in the industry. This machine exceeds all industry standards for draw capacity with flow rates up to 4.5 oz. per second.
Changing flavors is easier than ever with full carbonation and plain water flexibility. There are no plumbing changes required with an easy to use switch over fitting. The ICD 2300 High Performance is now available with even more options. Choose between 6, 8, or 10 valves.
This commercial beverage dispenser meets or exceeds industry standards for performance!
100% Financing, Installation, and Servicing Available.
Features:
Height: 38.2" (970.28 mm)

Width: 23" (584 mm)

Depth: 23" (584 mm)
Counter cutout:

Width: 23.25" (591 mm)

Depth: 23.25" (591 mm)
Weight:
Operating: 240 lbs. (108.86 kg)

Shipping: 266 lbs. (120.65 kg)
Electrical:
115V/60Hz

220-230V/50-60Hz
Ice:
Capacity: 100 lbs. (45 kg)
Valves:
LEV® and other valves available upon request
Fittings:
Soda inlets: 3/8'' (9.5 mm ) male barb

Syrup inlets: 3/8'' (9.5 mm ) male barb
Flex manifold configuration:
6 valve, 8 valve, 10 valve

Full Plain Water and Carbonated Water

Flexibility
Key lock switch: