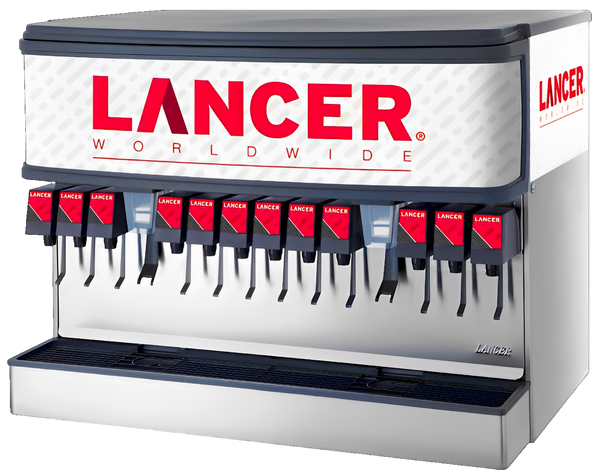 IBD 44 12LEVSS Self-Serve Beverage Dispenser
---
Our Lancer IBD 44 12LEVSS is the number 1 selling self-serve beverage dispenser. The hard plumbed syrup and water lines deliver excellent icy cold drinks.
Versatile valve configurations and a portion control option allow for easy beverage cost monitoring. Topped with a compelling wraparound display, the IBD is a customer favorite. Industry standard platforms in 44" width - 12 valve, lever or push button dispensing versatility.
Features:
Illuminated interchangeable front graphics, 2 standard fluorescent 30 watt light bulbs
High capacity ice storage bin
High capacity drip tray to handle customer ice and beverage overfill helps avoid safety hazards and drink station cleanup from spills
Unique hex drive ice agitation and dispense drive system for trouble free operation and long service life
Stainless steel construction; exterior and interior
Fully insulated storage bin and drip tray controls condensation and helps avoid moisture related safety hazards
Plumbing access front and rear for installation flexibility
Dimensions:
Height: 35.375" (899 mm)

Height with riser 40.625" (1032 mm)

Width: 44" (1118 mm)

Depth: 30.5" (775 mm) including tray
Required space:
Width: 46" (1168 mm)

Depth: 31.5" (800.1 mm)

Height: Allow sufficient clearance for

manually filling with ice or refer to ice maker

recommendation for top clearance.
Weight:
With Ice: 760 lbs. (345 kg)

Shipping: 460 lbs. (209 kg)
Electrical:
Ice:
Capacity: 360 lbs. (163 kg)

Dispensable: 300 lbs. (136 kg)
Fittings:
Soda Inlets: 3/8" (9.5mm) male barb

Syrup Inlets: 3/8" (9.5mm) male barb
Valves:
LEV® other valves available upon request
Flex manifold configuration:
3-2-1-1-2-3
Key lock switch:
100% Financing, Installation, and Servicing Available