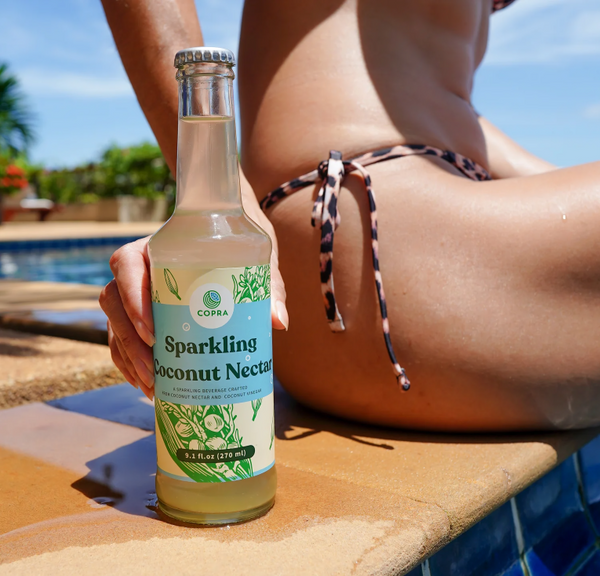 Copra Organic Sparkling Coconut Nectar
---
PRODUCT INFO
MADE FROM 100% ORGANIC AROMATIC COCONUT NECTAR
Copra's Sparkling Coconut Nectar draws both its sweet and sour notes form the very same source. We combine fresh and fermented nectar from coconut palms into one drink for a perfect balance of flavors. With a low glycemic index and a wealth of minerals and amino acids, this floral duo is an effervescent addition to your wellness arsenal.
WHAT IS SPARKLING COCONUT NECTAR?
Our Sparkling Coconut Nectar is derived from pure, organic nectar bled from the flower of young Thai coconut trees in Western Thailand. The nectar is naturally fermented over several months until it turns to cider and eventually nonalcoholic vinegar. we add carbonated water and a touch of coconut nectar to turn this superfood into a refreshing, delicious drink to power your busy lifestyle.
BENEFITS
Sparkling Coconut Nectar introduces beneficial bacteria in your gut to aid digestion, help you better absorb nutrients and strengthen your immune system. Coconut sap in particular contains 17 amino acids necessary for essential body function and is rich in minerals.
17 Amino Acids
65 minerals
Low Glycemic Index
Crafted from coconut nectar & vinegar
Non-GMO Project Verified
PRODUCT SPECIFICATIONS

ORIGIN
Ratchaburi Province, Thailand
INGREDIENTS
Coconut flower nectar, Organic coconut flower vinegar

FLAVOR
Sparkling Cider Vinegar
APPEARANCE
Slightly cloudy, brown liquid
THICKNESS

Liquid

SHELF

 

LIFE
75 days Refrigerated
PACKAGING
Glass Bottle
STORAGE
Ambient, don't store above 35 degrees Celsius
AROMA
Sweet and sour, light smell of vinegar
TEXTURE

Sparkling beverage, similar to a kombucha
HANDLING
Ground