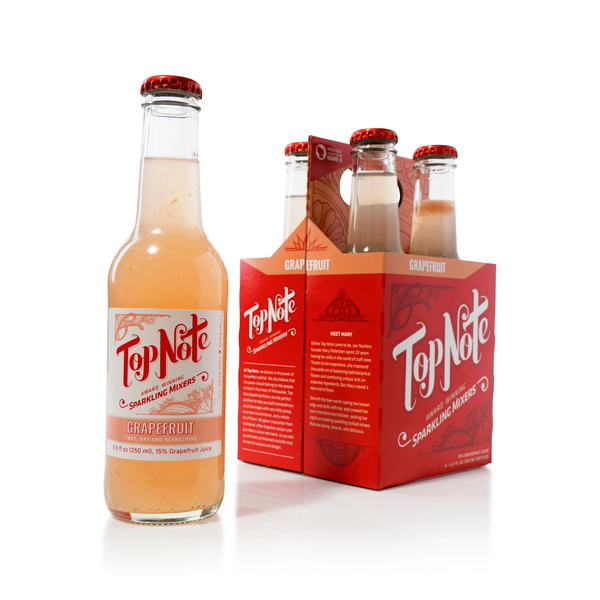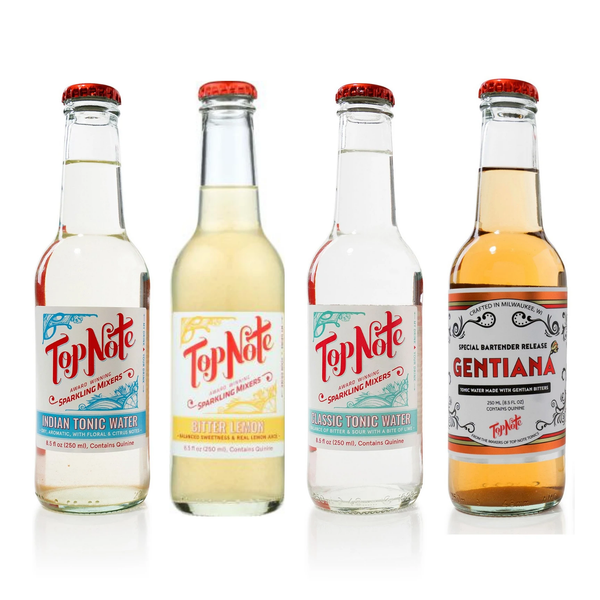 Top Note
---
Based in Milwaukee, Wisconsin, founders Mary Pellettieri and Noah Swanson set out to start a company that changed the way people think about - and enjoy - drink mixers.
In 2014, while researching different ways to bitter beer, Mary became intrigued by the complex variety of herbs used in European amari, vermouth, and bitter wines. Eventually she stumbled upon the origin of soft drinks, leading her on a path to tonic, historically described as a "bitter botanical drink" made by pharmacists and meant to provide increased health and vigor to their imbibers.
Mary and Noah began to experiment with herbs and syrups, pouring through old recipes for inspiration in their self-constructed commercial kitchen. Together they formulated a unique Bitter Orange Syrup that was full of warm spice and bitter orange zest and sold it at local farmer's markets in Wisconsin. The response was so positive that they decided to bring their products to a broader audience.
In 2017 Top Note was born. Mary and Noah launched with their aromatic Indian Tonic Water and Bitter Lemon Tonic Water, plus a unique non-alcoholic Ginger Beer formulated with date sugar. Within two weeks, Top Note received word that they'd won a SoFi award from the Specialty Food Association for their Indian Tonic Water. The equivalent of an Oscar for the food & beverage industry, the award put a stamp of approval on Top Note as America's new craft mixer of choice.
In 2019 they added an all-quinine Classic Tonic as well as a Sparkling Grapefruit Soda. In 2020 Club Soda No. 1 joined the lineup and quickly earned the title of "Best Club Soda outside of Japan" by leading Japanese whisky makers.
Today, Top Note continues to look forward to adding to the world of mixers with more innovative and high-quality products. With their craft brewer's mentality, Mary and Noah put a twist on tradition for mixers set to wow the world.
Top Note Products
Top Note full line up of mixers includes their award winning Indian Tonic Water,  the New York Times Mentioned Gentiana Soda, and their best selling Grapefruit Soda. 
Try a party pack for a good selection of items to keep pantry stocked, or the new NA cocktail gift set. They also have juice nectars from Tuscany to add to your order and be spring cocktail ready!
The good people at Top Note strive to ship the day you order, so you will receive your items as swiftly as feasible. 

Top Note makes use of a 100% paperboard package, no plastics, no peanuts. 100% recyclable, and as minimum weight as possible. 
---