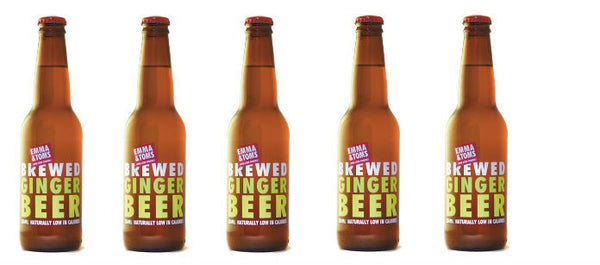 EMMA & TOMS "Look After Yourself"
---
Brewed Ginger Beer
We kick start our brew with real ginger and yeast.  We blend it with apple juice, lemon juice and more ginger to deliver maximum flavour.
Emma & Tom's NEW range of Sparkling Juices are old café favourites. Our Sparkling Juices combine fresh whole fruit juice, sparkling water, natural flavours and stevia leaf extract to create delicious blends everyone will love.
Emma & Tom's NEW Sparkling Juices are free from artificial colours, flavours, citric and phosphoric acids and are available in two delicious varieties
Who We Are
Emma & Tom's is a proudly Australian owned business that was founded in 2004 by childhood friends Emma Welsh and Tom Griffith.
Emma & Tom's brand philosophy, Look After Yourself, runs throughout the business, as we are committed to helping ourselves and all Australians to look after themselves by offering nutritious minimally processed whole fruit products that are good for you… and taste great too!
What We Do
We have built our business by working closely with our producers, offering our clients great service and delivering a product to our customers that we are very proud of. The Emma & Tom's range includes fresh whole fruit smoothies, life bars packed with fruit, seeds and nuts, refreshing quenchers and our lightly sparkling fruit juice.
What Makes Us Different
Emma & Tom's whole fruit smoothies use whole fruits so all of the fleshy goodness goes into the bottle. Each bottle of Emma & Tom's provides about 15% of your daily fibre requirement and at least 2 portions of whole fruit – juice, flesh and all. Unlike many long life fruit juices on the Australian market, our whole fruit smoothies are flash pasteurised and cold filled, so the fruit flavour and goodness is retained and the juice is as close to the original fruit as is possible The juices are free from preservatives, concentrates, added sugar, artificial flavours and colours – yes the juice is naturally that bright!
Each year, we donate more than $100,000 worth of juice, Emma & Tom's Sparkling and bars to community groups, fundraising events and charities such as the Peter MacCallum Cancer Centre, Pink Ribbon, Second Bite and the Prahran and St Kilda Missions.
Our square bottles are made from light, recyclable plastic and don't require the industrial amounts of gas that it takes to create glass bottles. They store more efficiently than round bottles and therefore each pack can be minimally wrapped in plastic. We also support Australian farmers, sourcing fruit from all over the country such as Kingston Pride mangoes from Far North Queensland, Valencia oranges and apples from the Murrumbidgee Irrigation Area and stonefruit from South Australia.
---